Only six months after her fourth album, Sweetener, Ariana Grande released her highly anticipated new fifth studio album yesterday titled Thank U, Next.
With a rough last year, Grande has poured her heart into her new album in a span of less than a year. She said that Thank U, Next is much more personal than her other albums. Grande also said that she doesn't want to confine to the regular pop star schedule of dropping music anymore.
In an article by Vulture, Grande talks about not subjecting to the "normal" way of releasing music.  "It's just like, 'Bruh, I just want to f--king talk to my fans and sing and write music and drop it the way these boys do,", she said.
There are 12 tracks on the album with no features, which is Grande's first album to do so. Grande released 3 singles before the album dropped; The album title track, Thank U, Next, Imagine (Promotional single), and 7 Rings (Second official single).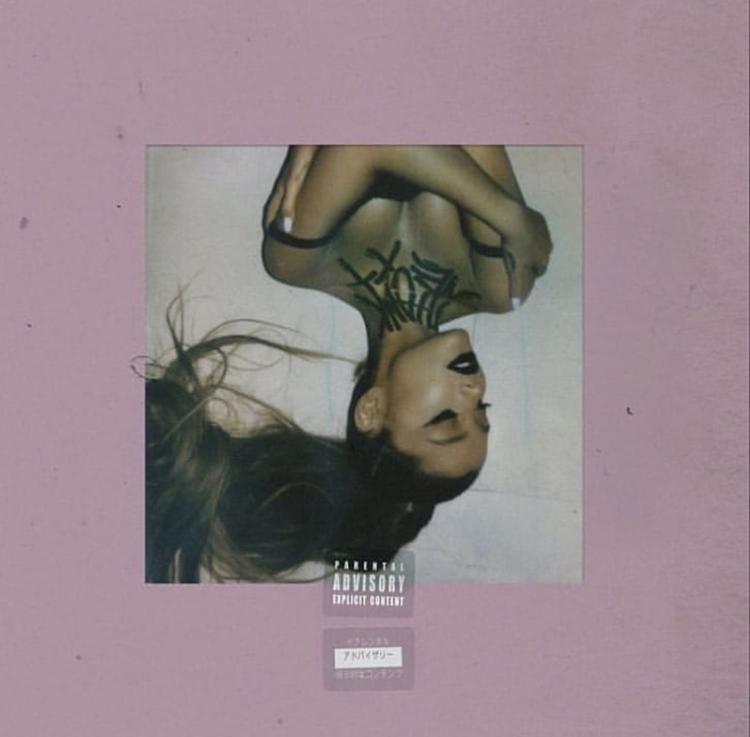 Review
1.     Imagine
This is the album opener. Imagine was released on December 14, 2018. Imagine served as a promotional single. Under the R&B production, Trap beat influence, and Grande's sultry vocals riding the beat singing "We go like up till I'm sleep on your chest / Love how my face fits so good on your neck / why can't you imagine a world like that?"
The song executes the opening to Thank U, Next effortlessly. Imagine is one of my favorite tracks on the album due to the fact that it showcases her vocal abilities with the whistle notes and ranges. It's impressive to see her grow as an individual and artist.  
2.     Needy
Grande teased this song before the new year and fans wanted this song stating they were "needy for needy". I have to agree with them because with this particular song, Grande dives straight into a keen R&B production with flawless vocals.
"I'm obsessive and I love too hard / good at overthinkin' with my heart."
 This song paints a picture of a person becoming aware and acknowledging they have flaws, being needy is one of them. Personally, on first listen, this is one of my top 5 songs off the album because it's relatable. We are all human with flaws, but the first step is acknowledging those flaws and not caring what other people think. Passionate lovers are the best kinds of lovers.   
3.     NASA
"I can't really miss you if I'm with you / and when I miss you, it'll change the way I kiss you / Baby you know time a part is beneficial / It's like I'm the universe and you'll be
N-A-S-A / give you the whole world, I'ma need space". This song caught fans' attention instantly. With Grande's delicate vocals on this track, it emphasizes that it is normal for a partner to want space because when you miss them, the physical attraction will mean more in the long run. She wants to venture on a self-discover journey. She still loves this person, but wants to have time for herself for a change. Personally, this song makes me want to focus on myself while giving time for myself to learn about who I am as a person.
4.     Bloodline
This is my second favorite off the album. During my first listen, Bloodline shocked me. Nonna, her grandmother, starts off the track with a brief snippet of talking about satisfaction. Between the production and the lyrical content, this could very well be Grande's greatest track since Dangerous Woman.
She sings, even though you're bad for me, I know / You're the one that I'm thinkin' / Don't want you in my bloodline, yeah / Just wanna have a good time, yeah." This song is very upbeat with a Caribbean-vibe to it and entails that Grande likes a guy but does not want anything long lasting from my understanding.
5.     Fake smile
Sampling Wendy Rene's Stax classic, After Laughter (Comes Tears), Fake Smile gives listeners a different perspective into Grande's personal life and still being a celebrity. The message that I got from this is that she has been through so much and she doesn't want to put on a faux smile on.
She sings, "I read the things that they write about me / and what they sayin' on the TV / It's crazy."
Further along in the song, she tells fans that she knew what she signed up for and that she is grateful for every opportunity that she has worked hard for since this point.
"I know it's the life that I chose / but, baby, I'm grateful I want you to know / I'm happy for all the love and all the above / If I'm being honest, I done been through way too much"
6.     Bad Idea
This song soothes my soul. Grande outdoes herself with this track because bad idea resembles her making a decision about going back to someone but she knows it's a bad decision to make. Her vocal runs and abilities in this song is remarkable and truly creative. Bad Idea is the "IT" track.
"I got a bad idea / yeah' I'ma call you over here to numb the pain."
7.     Make Up
On initial listen, I did not vibe with the song, however, after the second and third listen, I fell in love with Grande's boldness and "straight to the point" attitude. I was expecting this to be a ballad or a slow sexy song, but I honestly love it just the way it is. You can tell she poured her heart and soul into this one.
"I might break up with you / just to make up with you / at the end of the day, boy you know / That I'm 'bout to wake up with you."
8.     Ghostin
Let's talk about Ghostin. This was the ballad I was looking for. I love Ariana's ballads, but this one hit me right in the heart. If you have been following the tracks' lyrics up to this point, you'd know that she is painting a picture for us. This track is more than likely about her relationship with her ex, Pete Davidson.
"Admit that it hurts you / I know that it breaks your heart / when I cry over him / I know that it breaks your heart / when I cry again instead of ghostin' him."
9.     In My Head
In My Head, to me, symbolizes imagining a person who does all the right things and loves you the right way, but it clouds your judgement. When she sings, "I thought you were the one / but it was all in my head," it reminded me that sometimes a person can conjure a certain image of someone but in reality it was all in our heads. We ran with fantasy instead of reality.
10.  7 Rings
The second official single off the album instantly grabbed my attention with the House of Music sample for "My Favorite Things". I determined it was an amazing creative track because Grande stepped outside of her comfort zone and started rapping on a trap beat. It was amazing to witness and honestly, outrapped a lot of the male rappers that are out now. It's a classy, yet "I'm in control", type of song.
"My wrist, stop watchin' / my neck is flossy / make big deposits / my gloss is poppin'/ You like my hair? / Gee, thanks! Just bought it."
11.  Thank, U Next
The lead single off the album which debuted at #1 on the Billboard Charts for several weeks, is a reflection of herself and relationship, which means moving on with a pure heart. This one song honestly reflects the entire album as a whole.
"One taught my love / One taught me patience / and one taught my pain / now I'm so amazing / Say I've loved and I've lost / but that's not what I see."
12.  Break Up With Your Girlfriend, I'm Bored
This song is honestly the most fun and amazingly produced in my opinion. This was the last song Grande wrote for the album, but I must say that this is a masterpiece. BUWYGIM is my favorite off Thank U, Next because of the production and lyrical content.
"Took one f—kin' look at your face (Mm) / Now I wanna know how you taste (Mm, mm) / Then I realize she's right there / and I'm at home like, "Damn, this ain't fair!"
Overall, this album is a 10 out of 10 for me. I still love her previous album, Sweetener, but Thank U, Next has me hypnotized. The album is currently at #1 on iTunes Sales Charts according to the iTunes Music Charts. 10 of the songs off the album are in the top 10 for Top 100 Global charts for Apple Music, according to Apple Music. I am personally so proud of Ariana Grande because I have been a fan since the Nickelodeon show, Victorious, days and her debut album, Yours Truly. Grande has also been nominated for two Grammy's for the upcoming event tomorrow night.