"One taught me love. One taught me patience. And one taught me pain," trills Ariana Grande. 
Grande's gratefulness is spreading like wildfire because she just released a thoughtful yet cutting single off her upcoming album. 
Last night, thirty minutes before Saturday Night Live, where her former fiancé, American Comedian, Pete Davidson has spent most of the new season comically talking about his relationship with her, she debuted "Thank U, Next". 
The track is not a usual dig to one's ex, however it spins the concept in a whole different direction. 
"I'm so f—ckin' grateful to my ex," she sings. 
Fans all over social media began to get teary-eyed when she sang, "Wish I could say thank you to Malcolm, because he was such an angel." This was about her ex-boyfriend, late Mac Miller who passed away due to an overdose back in September. 
Grande acknowledges the pain and looks at the bigger picture of gratefulness and self-love.
She tweeted last night that her new single and album would not drag anyone. "No drags…no shade…just love, gratitude, acceptance, honesty, forgiveness…and growth," she said. 
no drags.... no shade..... jus love, gratitude, acceptance, honesty, forgiveness ... and growth 🖤

— Ariana Grande (@ArianaGrande) November 3, 2018
Grande not only is thankful for her exes, but she is also grateful to herself. "Spend more time with my friends. I ain't worried 'bout nothin'. Plus, I met someone else. We havin' better discussions. I know they say I move on too fast. But this one gon' last. 'Cause her name is Ari," she sings. 
This song depicts that she is choosing herself and that she is okay with that decision. Although she has been through so much over the last year, she is thankful for her exes because they each taught her valuable lessons. She has learned from the pain. 
This is another step in the right direction. With her last album, Sweetener, she described it as "bringing light to a situation". With all the drama and emotional tragedy, she has experienced, Grande continues to take the positive road in life through her music.
If this is the lead single from the new album, then fans are in for a great album. In less than 24 hours, "Thank U, Next" has gone number one on the Worldwide iTunes songs chart, according to iTunes.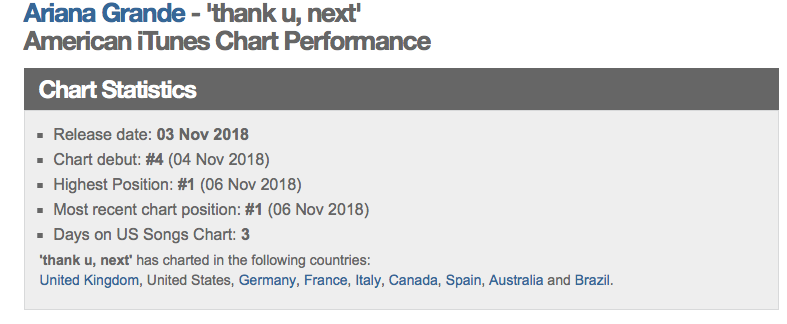 Her latest fourth studio album, Sweetener, (which was released in August) has not even been out for a full three months yet, however Grande says she does not believe in "eras", in which she also says that she just wants to make music and put it out when its fresh. 
issa song and an album .... you'll get the song first https://t.co/Bv99dX7mM1

— Ariana Grande (@ArianaGrande) November 3, 2018
She has been teasing her upcoming fifth album, which she confirmed is titled, "Thank U, Next" on her twitter yesterday. The album will have no collaborations, which was confirmed by Grande herself. This will make "Thank U, Next" her first solo album. 
no not this one 🖤 https://t.co/aUbQ3QTOuW

— Ariana Grande (@ArianaGrande) November 3, 2018
The upcoming album will consist of twelve tracks thus far. Two tracks that are confirmed for the album are "Needy" and the title track, "Thank U, Next." 
In October, she confirmed that the album will be out before the end of the year, however she later took to twitter to say that she doesn't know, but the album will be out before her combined tour of Sweetener and "Thank, U Next", which kicks off in March 2019. 
Buy ($1.29) and stream "Thank U, Next" on all streaming/music platforms.