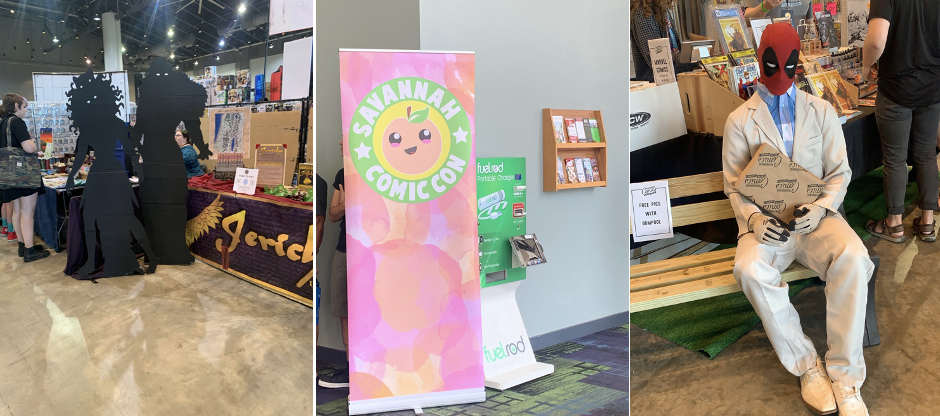 Savannah Comic Con is a two-day event held each year in Savannah to bring together fans of comic books and pop culture. As stated by its official website, the event is "dedicated to educating attendees and the world about the sequential arts, i.e., comic books and graphic novels. We are so proud of our work with professors and students of Savannah College of Art and Design in crafting a show that teaches just as much as it entertains."
More from the website: "Each year, professors and our special guests provide workshops in a wide range of subjects from Sequential Art, Illustration, Inking, Story Boarding, Lettering, Animation and Character Design, giving interested creators the opportunity to see behind the scenes for themselves how to become Visual Storytellers and bring their creative ideas to life."
This event is also an opportunity for comic book fans to meet other fans of comic books who share the same passion, but especially the opportunity to meet comic book creators, celebrities, cosplayers and many others.
This year, the event was held on September 24 and 25 at the Savannah Convention Center. For this year's edition, there were special guests and comic book celebrities such as Caity Lotz (Star of Arrow, Legends of Tomorrow), Gigi Edgley (Star Trek Continues), New York Times best-selling author Robert Venditti and so many others.
Savannah Comic Con included the exhibition of toys, books and many other things related to comics. There were also panels such as Introduction to Storyboards (hosted by Ray Goto), Toy Design (hosted by John Larrison), Dynamic Figure Drawing (hosted by Dove McHargue), Animation Domination (hosted by John Paul Lowe, Story-Driven Character Design (hosted by Rashad Doucet) and Making Mini-Comics on the Fly (David Duncan).
Brown Suga Outlaw presented the cosplay contest on Saturday at the Oglethorpe Theatre. The different categories were Best Adult Cosplay, Best Kids Cosplay and Best Group Cosplay. The winner of this year won $1,500 in cash and other prizes.
For more information about this year's Comic Con and news about other upcoming events, visit: https://www.savannahcomiccon.com/.