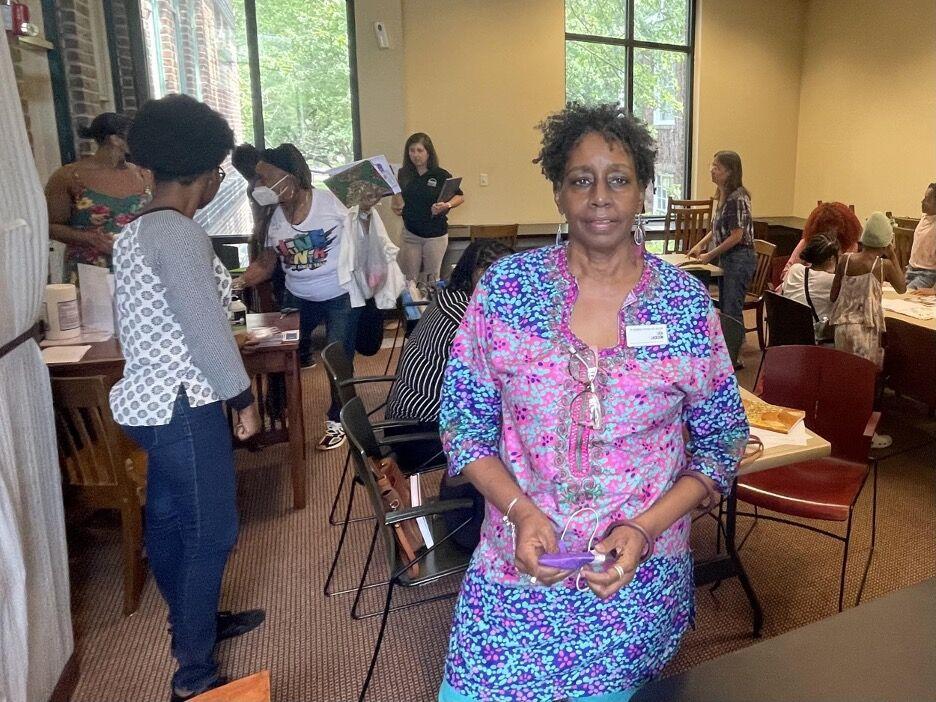 On Saturday, Aug. 27 the Savannah African Art Museum partnered with Carnegie Library for their 108th year anniversary to present "Telling Your Story: Journal Making and Writing Workshop". It was hosted by Lisa Jackson, the Education and Community Outreach Liaison for Savannah African Art Museum.
The event started promptly at 11 a.m. and lasted about an hour and a half. Because it was a registered event, everyone checked in and were asked to choose a piece of African print fabric and find a seat upon arrival. In front of each seat was placed a composition notebook, three sheets of paper, a brochure for SAAM, glue, and a pair of scissors.
Jackson opened the event by recounting the library's history. It was founded by 11 men who wanted to help African Americans receive public access to different resources within libraries. They petitioned to start one, and successfully did so by raising $3,000 and receiving remaining funds from Andrew Carnegie, an American industrialist. On Aug. 14, 1914, the Carnegie Library was made public to all African Americans.
The message of this event was that each man that fought for the library has a different story to be told, and each one deserves to be heard. Therefore, the attendees created their own personal journals to begin telling their unique stories. Jackson presented a tutorial that displayed vivid instructions on how to wrap the fabric around the composition book and everyone did as instructed. Once the audience was finished, the hosts then displayed Nigerian author Chimamanda Ngozi Adichie's TED Talk "The Danger of a Single Story".
In her TED Talk, Adichie expressed that when someone has a single story, they believe that is the only way the story can be told. When someone is repeatedly shown as one stereotype or definition, it becomes easy for people to label them under that. She gave the example of her family friend who she always labeled as poor, because her mother always reminded her that they didn't have as much money as them. Until one day the family shared something beautiful that they created, and she realized it was more to them than poverty. Miss Jackson described it as "the glue that pulled all the elements of the workshop together." She stated that, "Chimamanda demonstrated so clearly the value of telling your own story, and the dangers of their only being one single story."
Following the video, the hosts set up stamps with different symbols on the table for guests to stamp on the back of their notebook, including a symbol for unity, safety, wisdom, creativity, power of love. They also had butterflies to represent new beginnings. Jackson ended the event by passing out handouts to help everyone get started on telling their story. On the handout were questions, exercises, quotes, and affirmations to assist the guests with digging into who they are.
She also encouraged everyone to visit the Savannah African Art Museum as it is free to the public and contains over 1,000 pieces. According to Miss Jackson, Gallery 1 on Princess Yennenga is her favorite and a must see. She stated that she "enjoys telling the fascinating story of Yennenga, the fierce warrior of the Kingdom of Dagomba." The museum will also be having another workshop on Saturday, Sept. 17, 2022, from 11 a.m. to 1 p.m., covering the history and meaning of Adinkra Symbols and Cloth.